Taking a break from my code posts– because geeks love not paying utilities for things you can just get from the internet.
I just switched our home telephone service to Ooma. I bought an Ooma Telo 2 from Amazon for $150 (they're only $119 right now though) and the voice quality is great– I have Comcast internet, and now that's it, I'm dropping the bundled voice service of $45/month.
Here's the Ooma Telo: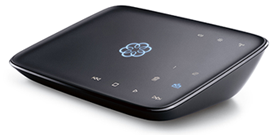 Get the ooma from Amazon here. And check out Ooma service here.
Plug that bad boy into the internet port, the other into your home phone wiring, create your Ooma account and you're good to go. You could plug it in between your router and home network to get better quality of service, but I just dropped it in wherever (going to go wireless) and I get good results. I splurged $10/month for Ooma Premium and got a second line and a phone spam filter, I think it's worth it and still way cheaper than $540/year for Comcast. (We also switched from dish to cable to Hulu Plus and an antenna some time ago… that also seems to be a much better option for an internet connected home with PCs and XBoxes at each television, another $1200+ a year in savings!) I also spent $120 on the cool Ooma handsets since I had some Amazon funny money lying around from Rewards cards, but you can just use standard phones.
I was a bit hesitant to switch to a DIY VOIP option like Ooma, but the quality is great, it sounds as good or better than what I got from Comcast Voice.
*This is an unpaid endorsement, you can save a CRAPLOAD of money using Ooma.